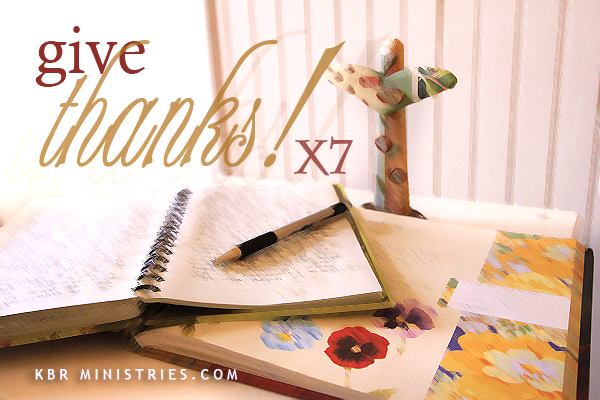 I am thankful for . . .
November 8
50. Thought-provoking, "painful" books :)
51. Thrift-stores (especially when I can find what I need in less than ten minutes! :))
52. God's hand of safety as we travel
53. God reaching down and saving my Mom and her brothers – creating a new godly generation
54. My "second-set-of-grandparents" – Uncle Reuben and Aunt Iris
55. God allowing me to know my Dad's mom for 21 years, and the assurance that she and Grandpa are now in heaven
56. The way that God answers our prayers – according to His will, not mine
November 9
57. The ability to memorize Scripture
58. Hot water
59. Missions' conference
60. Sweaters – keeping warm in cold weather!
61. The Psalms
62. God's ways being perfect . . . always!!!
63. Self-Confrontation – a Bible course by BCF
November 10
64. The ability to read God's Word every day!
65. Green plants – freshness!
66. God's grace that is able to help us keep commitments
67. The protection God has given us in traveling to the Bible Conference in Mississippi
68. The peace that God gives
69. The ability to understand God's Word
70. God allowing me to be just a little "techy" – I know that He has a reason for it! :)
November 11
71. God allowing our family to sing at Enon Baptist Church and Shiloh Baptist Church
72. Brothers and sisters in Christ that we meet
73. Pizza! :)
74. The ability to breathe
75. Daily devotions
76. Teasing and light-heartedness
77. Sleeping in . . . after l-a-t-e nights!