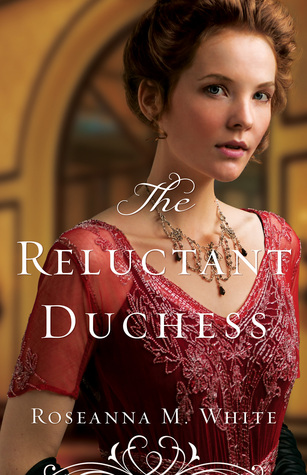 Lady Rowena Kinnaird may be the heiress to a Highland earldom, but she has never felt good enough—not for her father, not for the man she thought she'd marry, not for God. But after a shocking attack, she's willing to be forever an outcast if it means escaping Loch Morar and the men who have jeopardized her life.
Brice Myerston, the Duke of Nottingham, has suddenly found himself in possession of a rare treasure his enemies are prepared to kill for. While Brice has never been one to shy away from manor-born ladies, the last thing he needs is the distraction of his neighbor, Lady Rowena, who finds herself in a desperate situation. But when the moody Earl of Lochabar tries to trap Brice into marrying Rowena, Brice finds he's not as opposed to the idea as he expected to be.
Rowena wanted to escape the Highlands, but she's reluctant to resort to marrying a notorious flirt just to gain his English home. And when she learns that Brice is mixed up in some kind of questionable business with a stolen treasure, she 'fears she's about to end up directly in the path of everything she was trying to avoid.
I have mixed feelings about this book. On one hand, I thoroughly enjoyed it. I'm not a huge romance fan, but if there's one type of romance I like, it's between a husband and wife who are learning to love each other (as opposed to unmarried people falling in love...I don't know, it's just me). Brice, being my favorite character from The Lost Heiress, was still my favorite character. I enjoyed reading how he learned to listen and his wife learned to love. It was really a sweet story.
Throughout the whole book, it seemed like the characters regularly sought God and prayed, which I appreciated. Some of the characters were evidently stronger in faith than others, which I thought gave a realistic aspect.
However. When I think back on the book, the main thread that stands out to me is the marriage bed. Whether it was Rowena being physically abused by her supposed lover or her learning to trust again, this theme just wasn't in my comfort zone, even though it was done fairly discreetly. For this reason, I would not recommend this book to girls under twenty.
The continued thread of the Fire Eyes was alluring. There is something about them that are enticing and exciting. In this, though, there is a lot of discussion about curses and the spiritual realm. I don't think I particularly disagreed with the author on this, because the conclusion I found was that there are spiritual battles being fought (which I believe is Biblical) and that the curse was not a curse of superstition, but a curse of greed. The way the author brought this about, though, was slightly confusing so I might not have fully grasped her intentions.
So, those two things pull my rating down to three stars--which I realize is just my personal preference and convictions.
*I received this book in exchange of my honest review from Bethany House*
Roseanna M. White pens her novels beneath her Betsy Ross flag, with her Jane Austen action figure watching over her. When not writing fiction, she's homeschooling her two children, editing and designing, and pretending her house will clean itself. Roseanna has a slew of historical novels available, ranging from biblical fiction to American-set romances to her new British series. She lives with her family in West Virginia. Learn more at www.RoseannaMWhite.com